February-
March 2018
Stewardship
Lessons
------------------
ONE Magazine represents
the following
Free Will Baptist organizations: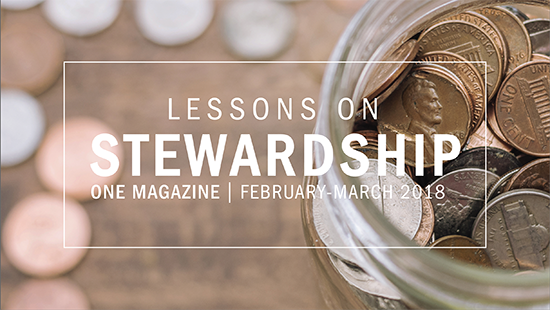 What is stewardship? The late C.S. Lewis described it this way: "Every faculty you have, your power of thinking or of moving your limbs from moment to moment, is given you by God. If you devoted every moment of your whole life exclusively to His service, you could not give Him anything that was not in a sense His own already." Go deeper into this important subject in the February-March 2018 issue of ONE Magazine.

Take a Walk Through Free Will Baptist History
What do you really know about Free Will Baptists? Perhaps you have heard the word Baptist all your life without stopping to consider where the name came from. Maybe you didn't realize there are dozens of Baptist groups: Missionary Baptists, Primitive Baptists, American Baptists, Independent Baptists, General Baptists, Regular Baptists, and more.
And why would one group of Baptists add "Free Will" to the front of their name? How are they different from more than 20 other Baptist groups? The Free Will Baptists in the South began in 1727, making this one of the oldest Baptist groups in the United States. For more than 250 years, Free Will Baptist churches have contributed to the moral and spiritual fibre of our nation. Would you like to know more?
Visit www.FWBHistory.com today, a website created by the Free Will Baptist Historical Commission, that makes important Free Will Baptist historical documents available for download, including books of historical record, biographies, periodicals, minutes from the national conventions, and more. It also contains a regularly updated history blog and an ever-growing list of publically accessible Free Will Baptist history collections.