June-July 2017
The Power of
Empowerment
------------------


Return to the Home of the "High Five"

Free Will Baptists will return to Louisville, Kentucky, for the third time July 16-19. Settled along the banks of the Ohio River where Interstates 64, 65, and 71 meet, this "Gateway to the South" is an easy day's drive from most Free Will Baptist churches. And who wouldn't want to attend a convention in the city where the celebratory "high five" was created?

In early 2015, the location of the 2017 convention was moved due to the upcoming renovation at the Kentucky International Convention Center. This year's events will be held in the Galt House Hotel, KFC Yum! Center, and The Kentucky Center for the Performing Arts. The three venues are in close proximity to one another, and the Galt House and KFC Yum! Center are connected via skywalk.
With its high room capacity, the Galt House will provide housing—all attendees in a single hotel for the first time in decades. Onsite registration will be located on the second floor of the Galt House. Because the KFC Yum! Center is closed to the public, attendees must register in the Galt House Hotel before being allowed to enter.
Equipping the Saints

Speakers Tim Eaton (OK), Rick Dement (MO), Marshall Bonéy (VA), Joel Franks (KY), Matt Pinson (TN), and Clint Morgan (TN) will address the theme, Equipping the Saints from Ephesians 4:11-12. Online streaming of convention services will be provided at www.nafwb.org for those who cannot attend, courtesy of the Free Will Baptist Media Commission. The theme will also be emphasized by a prayer rally on Tuesday morning, guided by Barry Raper (TN).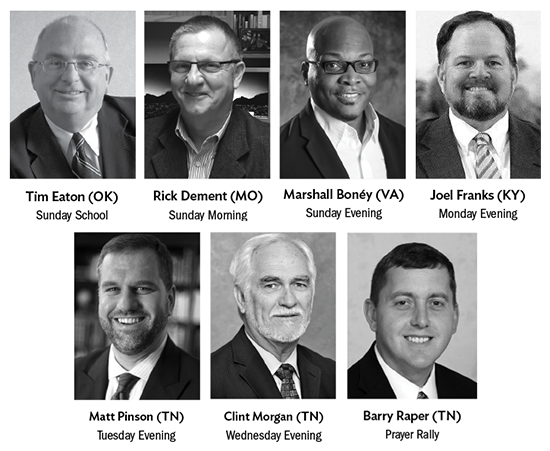 Attendees are also encouraged to take part in Impact Louisville, a one-day evangelistic campaign of service and outreach. This year, On Saturday July 15, participants will partner with First FWB Church of Louisville to provide a day of fun, fellowship, and outreach into the community surrounding the church, along with a number of work projects.

Volunteers are encouraged to meet at the church (4618 Poplar Level Road, Louisville, KY 40213) at 10:00 a.m., with the community event scheduled to start at 11:00 a.m. Once the community outreach event is underway, additional volunteers will complete a number of work projects inside the facility. Details will be made available at www.fwbmastersmen.org as plans are finalized.

Delegates are expected to approve denominational budgets totaling more than $25 million as Moderator Tim York guides delegates through annual business sessions Tuesday and Wednesday. This year's slate of business includes election of board members, general officers, and commission appointees. In addition, all national agencies and commissions will submit annual reports.
Vertical Three Conference

Meeting simultaneously with the National Association is the 50th annual Vertical Three Conference (previously th National Youth Conference) to address the theme "Be Bold." Planners expect more than 3,000 registrants to participate in national competitive finals in Bible and fine arts, seminars, and services designed especially for youth. In addition, students from across the nation will participate in "Serve the City" projects, meeting the needs of the Louisville community with time, volunteer labor, and kindness. Learn more at verticalthree.com.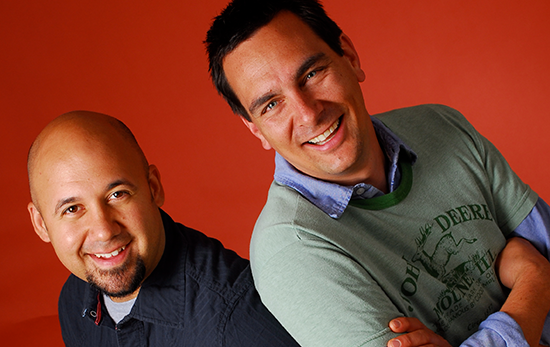 This year, on Tuesday evening, the youth event will feature special guests Tommy Woodward and Eddie James, better known as The Skit Guys (pictured above), with their unique combination of side-splitting comedy and thought-provoking sketches. Tickets are available when pre-registering or onsite.

Convention Music

The 2017 Convention Choir and Orchestra, sponsored by the Free Will Baptist Music Commission, needs vocalists and instrumentalists (age 15 and above, with at least third-year skill level) to participate in convention music. The ensemble will accompany congregational and choir selections each service. To be involved or if you have questions, contact the commission: music@nafwb.org or visit fwbmusiccommission on Facebook.
Making the Most of Louisville

Getting around Louisville is a breeze, with restaurants, shopping, and tourist attractions within an easy walking distance of the Galt House. For those with limited mobility, the city offers Zero Bus, a free shuttle that loops through the downtown area, with stops at all major attractions. With three home games scheduled during the convention, sports fans can take in a Louisville Bats game (Triple-A affiliate of the Cincinnati Reds) at Louisville Slugger Stadium.



For those with free time, Museum Row on Main is only steps away from meeting facilities. With ten museums in four blocks, visitors will find something for everyone, from the Louisville Slugger Factory and Museum, home to the largest baseball bat in the world, to the Frazier History Museum and Flame Run Glass Studio and Gallery, a truly unusual working art museum.

Known for its rich, southern fare, "foodies" will want to sample a variety of Louisville favorites. The Hot Brown is an open-faced turkey and bacon sandwich smothered in Mornay sauce created by Fred Schmidt in 1926 for the Brown Hotel in Louisville. Those with a sweet tooth will enjoy the rich, dark chocolate flavors of Derby Pie (pictured above), while barbecue fans have dozens of restaurants to choose from, each boasting their own unique version of Louisville's sweet, brown sugar-based sauce.

Be sure to take home a bag of Modjeska candy—a marshmallow covered with rich, buttery caramel and named after Polish actress Helena Modjeska, who performed frequently in Louisville in the late 1800s. A local candy maker named Anton Busath created the gooey confection and received permission from Helena to name it after her. After his candy shop burned in 1947, a family friend named Rudy Muth agreed to produce the candy in his own candy shop in exchange for the recipe. The Muth Candy Store continues to produce the candy today.