December-
January 2013
Learning the Ropes
------------------

A Call to Abide
by Eric K. Thomsen
It's a changing world! If you need proof—not that you do—consider just a few changes that have taken place in the last 35 years. Envelopes and stamps gave way to email, instant messages, texts, posts, and tweets. Music left vinyl for eight-track, cassettes, CD, mp3s, and now The Cloud. Flickering projectors became Beta and VHS before DVDs evolved into Blue-Ray and instant video downloads.

Walk-in computers the size of a kitchen shrank—first to the desktop then to laptops, tablets, and phones. Speaking of phones, they once hung on the wall (with a dial no less). They lost their cords, became mobile, then smart…too smart. Cameras with film became digital then handheld video recorders allowing every moment of our lives to be posted on the Internet for the entire world to see.

GPS units replaced maps and atlases to become standard components on most car dashboards. Cash became checks then debit cards then handy QR codes that allow consumers to pay bills with their phones. The onward march of technology leaves us wondering…

What's next?

Unfortunately, all the changes haven't been good. New technology has ushered in greater efficiency accompanied by higher expectations and ever-increasing connectivity. The result? More pressure on the family! Marriages are in crisis. Today's kids—while they know more than any generation before them—are emotionally inept, struggling to reach adulthood with faith intact.

Walt Mueller, author of Youth Culture 101 and founder of the Center for Parent Youth Understanding, describes the impact of these changes, "Not only are more voices taking up space in culture all the time, but they're getting louder, more attractive, and more convincing. The question a concerned father asked me 15 years ago rings truer every day: 'How can I expect my son to hear the still small voice of God with all those other voices screaming in his ears.'"

But, as Tim Elmore, author and founder of Growing Leaders pointed out, the changes are not going to stop. How should the church respond? Can it really help families grappling with the changing culture? The answer is found in one word…Abide.
ABIDE
Nearly 2,100 attendees from 609 churches in 8 countries, 41 states, and more than 35 denominations took a break from their regular schedules to gather in Dallas, Texas, September 26-28, for the fourth annual D6 Conference. For three days, attendees were reminded time and again that no amount of education, training, or methodology will provide the one thing their families and churches need most—for them to abide in Christ (John 15:4, 5).

More than 80 speakers addressed practical and crucial subjects ranging from marriage to culture, parenting, church ministry, and more. But at the heart of each presentation was a single underlying theme. A deep and growing relationship to Christ is "job one" for every believer, especially those in ministry.

Perhaps conference attendee Amy Dolan said it best on her blog LemonLimeKids.com, "We can have the best strategy on the planet, but if we as leaders are not abiding in the True Vine, are we producing authentic fruit? If the parents we serve are not abiding in Christ, what will the next generation of the church look like?"



Pete Wilson (pictured above), pastor of Cross Point Church in Nashville, Tennessee, urged listeners to abide in Christ while they fulfill their calling, reminding them, "What matters most is not what you accomplish; what matters most is who you become."

Richard Ross, founder of True Love Waits and See You at the Pole, reminded the audience, "When you awaken to the King yourself, when you abide in Him, when you have a conversation with Him throughout the day, and as you awaken to that relationship, you will have more 'fruit' hanging from you than you have had in years…Churches and families are having revivals because their leaders have fallen head over heels in love with Jesus."

Fred Luter, recently elected president of the Southern Baptist Convention challenged listeners to abide in the Word. "If we are going to transform our families, the Word of God must be evident in our hearts, our homes, and our habits."

Doug Fields, founder of Simply Youth Ministry, wrapped up the call to abide with a profound reminder. "Jesus didn't say 'abide in your church, passion, goals, ambition, or family.' He said, 'Abide in me.'"
Renew
The D6 Conference is more than training and encouragement. Plenty of time is set aside for worship, reflection, games, icebreaking activities, and…the unexpected. This year was no exception. Attendees returned from lunch on Thursday to find foam "finger-rockets" in every chair. Children's workers, pastors, missionaries, and parents split on two sides of the enormous ballroom, and moments later the air filled with flying foam missiles. "Not sure it was so smart to put 'weapons' in the hands of 2,000 youth workers,'" quipped emcee Josh Griffin, as rockets continued to fly toward the stage long after the game came to an end.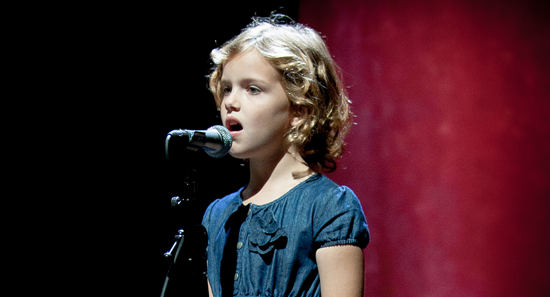 The pure voice of seven-year-old Emmy (above) opened the conference as she sang the haunting refrain of the old gospel song, "Nothing But the Blood." Christian musician Aaron Shust accompanied her before leading the 2,000-voice "choir" in worship. Christian artist Bethany Dillon teamed up with duo Shane and Shane to lead worship on Friday morning. Again, thousands of voices raised as one to sing, "Bless the Lord, Oh My Soul," and "Alive Again," overflowing the conference center and the adjoining hotel with the sounds of praise. "I loved hearing you all sing," said one conference center employee. "It was like going to church at work!"

Throughout the conference, attendees enjoyed comic relief provided by Tommy Woodard and Eddie James, The Skit Guys. The duo left listeners gasping for air before switching to serious, introspective sketches that encouraged parents, ministers, and volunteers not to let the difficulty of ministry deter them from their calling, to let God mold them into the leaders—the unique creations He wants them to be.
Responding to the Call

How did attendees respond to this call to Abide? First-time attendee Phyllis York, from Smyrna, Tennessee, summed it up quickly. "We were bombarded with so much helpful and practical information, but we were also challenged personally to abide in Christ first, and then get out there and make a difference."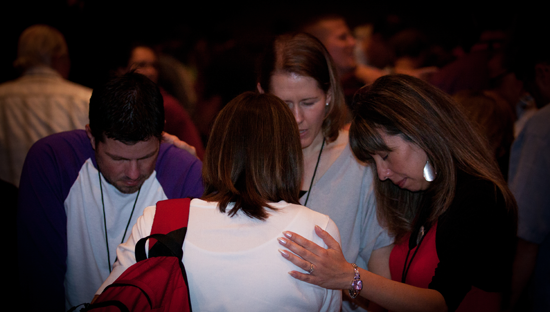 As D6 came to a close, conference planners made an exciting announcement. Starting in 2013, the D6 Conference will meet twice—first for a one-day event in Dallas, Texas, on September 26, and then for a second three-day conference in Louisville, Kentucky, October 16-18.

"It was a great year," said Randall House Executive Director Ron Hunter. "And it is so good to see all of the hard work and preparation result in a life-changing event that has a profound impact on everyone who attends. I can only imagine what God has in store for the D6 Conference as we move forward to a new location, meet new people, and make a difference in their lives and families."

Learn more about the 2013 D6 Conference: www.D6Conference.com.
About the Writer: Eric K. Thomsen is managing editor of ONE Magazine.
Highlights From the D6 Conference

Conference Countdown

Unforgettable Start! Pre-con Labs feature more than 80 workshops led by presenters such as Ed Stetzer, president of LifeWay Research; Jim Wideman, author and children's ministry pioneer; and Dr. Garnett Reid, Welch College professor (pictured below).



Jim Wideman, founder of Children's Ministers Leadership Club, reminds the audience that the primary ministry is not in the church but at home, challenging them, "The greatest sermon ever preached will be what is said about your family."



Ed Stetzer, president of Lifeway Research, encourages church leaders to go deeper in their teaching ministry, focusing on depth rather than details. He challenges teachers to avoid teaching to the lowest common denominator and "teach up" with teaching that is deep but not dry, Christ-centered, story-focused and mission-driven.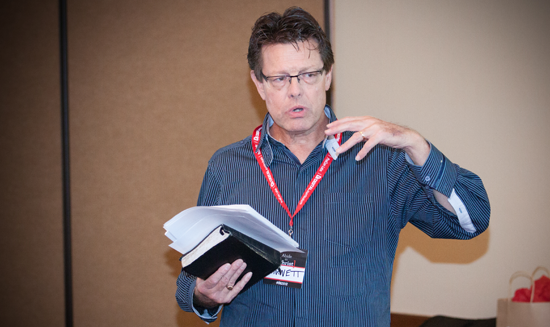 The Main Event

The pure voice of seven-year-old Emmy McGee starts the 2012 D6 Conference with the haunting refrain of the old gospel song, "Nothing But the Blood." Christian musician Aaron Shust accompanies her before leading worship.



Pete Wilson, pastor of Cross Point Church in Nashville, Tennessee, urges listeners to abide in Christ, to stay connected to Him in every facet of life and ministry. He encourages them to remember they are not alone, that the same God who gave them their calling in the first place is with them through anything they face.



Dr. Richard Ross, founder of True Love Waits and See You at the Pole, asks listeners to picture four concentric circles with the individual and his relationship with Christ at the center. Every other relationship—marriage, family, and ministry—rests upon this first relationship. He warns listeners not to be "an expert at God's service and a novice at being His friend."



Attendees enjoy a war with "foam finger rockets." The air is filled with flying foam missiles.



Mike Glenn, pastor of Brentwood Baptist Church in Nashville, Tennessee, shares the story of how his church changed the focus of their ministry from entertainment to discipleship in order to meet the spiritual needs of the next generation. "It's not my job to take kids to Six Flags!" he quips. Instead, his church instituted a path to discipleship aimed at taking the entire church deeper in their faith. The result? A church with a greater breadth and depth of biblical knowledge and a desire to serve God and further his kingdom.



Tim Elmore, founder and president of Growing Leaders (GrowingLeaders.com) ponders the question, "Are today's kids growing up too fast?" The resounding answer? Yes! After detailing the factors that contribute to this problem, he encourages parents and youth workers to understand their kids and react accordingly, adjusting ministry to fit their needs.



Beth Guckenberger, mother of nine adopted children, and cofounder of Back2Back Ministries ministering with orphans around the world, passionately reminds listeners that when God calls us, the choice is a simple yes or no, even when the calling is neither safe nor appealing. She illustrates with hair-raising stories of God's power at work in the world today concluding, "God doesn't just show up. He shows off!"



"All that is required for evil to prevail is for good men to do nothing." Family Life Today president and co-founder Dennis Rainey uses Edmund Burke's famous quote to issue a direct challenge to men, calling them to courageous living in the face of selfishness that threatens to destroy the family. He urges men to take steps leading to Christian maturity. The result is strong mentors and patriarchs—spiritual sages—who pass faith to the next generation as they live out their years with purpose.



Christian apologist Sean McDowell tackles the difficult topic of pornography, sharing shocking statistics that make it clear pornography has become "mainstream." He challenges church leaders to address the topic openly and establish support and accountability that is brutally honest.



Fred Luter, president of the Southern Baptist Convention, shares his passion for reaching men, telling his listeners, "If you save the man, the man will save his family." He reminds conference-goers, "If we are going to transform our families, the Word of God must be evident in our hearts, our homes, and our habits."



Mark McPeak, director of advancement at Free Will Baptist International Missions, encourages couples to live out grace in marriage—to understand differences, to take different perspectives and personalities into account. Marriage relationships should be sacrificial, a vivid picture of Christ's love for the Church.



Bethany Dillon teams up with duo Shane and Shane to lead worship on Friday. Two thousand voices raise as one to sing, "Bless the Lord, Oh My Soul," and "Alive Again."



Doug Fields, founder of Simply Youth Ministry, shares "the message he wishes someone had shared with him" based on 29 years of youth ministry. He warns against putting too much importance on numbers, getting caught in an unrealistic pace of life, and making constant comparisons to others, choosing instead to find fulfillment in Christ.



Brian Haynes, author of The Legacy Path, ends the conference by challenging attendees to identify one area of their lives or ministry they wish to see change as they abide in Christ this year.