Four Free Will Baptist Bible College students help build a wall in Haiti's voodoo capital.
Where Satan Dwells
by John Murray


"Mr. Turner, I want you to come to my house tomorrow night with your tape recorder."
Missionary Richard Turner went to the noted hit man's house, hid with his recorder as requested, and listened in astonishment as a church representative offered the hit man $10,000 to kill Turner or his Haitian assistant and translator, knowing that the death of either man would greatly hinder the expansion of Mountain Faith Mission. The recording was used to confront the church and oust the corrupt leadership.

Turner said, "I don't know why a hit man would love me, but he does." With an orphanage and 17 churches pastored by Haitians, the Mountain Faith Mission is growing in spite of opposition, corruption, and spiritual darkness.




Road to Saut D'eau



But let's go back to the beginning. Master's Men director Ken Akers described Haiti's needs in chapel last spring at Free Will Baptist Bible College following the devastating January 12 earthquake. When I asked if we could send a group of students to Haiti to help in recovery efforts, he mentioned rebuilding a boys' dorm for the orphanage at Mountain Faith Mission.

I asked for student volunteers, promising only heat, blood, sweat, and tears. Four brave souls volunteered: Tim Clements (North Carolina), Kevin Emberg (Alabama), Robin-Lynn Bogart (Michigan), and Morgan Fite (my granddaughter from Tennessee). Four men from Tennessee and one from Arkansas joined us. We departed from Nashville Monday, May 17, at 6:00 a.m. and landed a few hours later in an extremely hot Port-au-Prince, Haiti.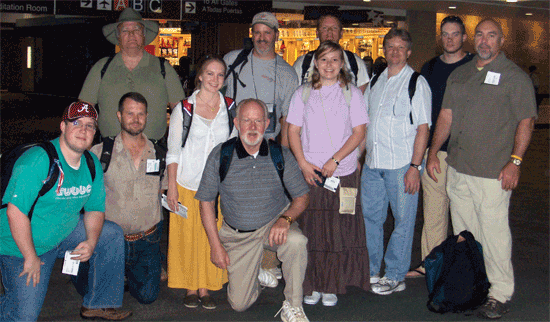 Fourteen of us boarded a waiting van for the 45-mile trip that took three hours. When we arrived at the road to Saut D'eau, everything changed—no more paved roads—just rocks and gullies. We drove up a hill to the mission compound that had a concrete block wall on three sides and a 100-foot drop into a palm-filled valley.

Seventy-four-year-old Richard Turner and his wife met us. He told how God spoke to him about going to Haiti. He explained how he bought property for the orphanage, and that the lady who sold it to him was killed by voodooists for selling the land to an evangelical church. Saut D'eau is near a waterfall where Satanists and voodooists come from around the world every year to worship Satan. They go to the falls on Good Friday but leave before Easter Sunday.




Tarantula Morning



Tuesday morning we went to where the boy's dorm had been. The only thing remaining was a red metal door. With help from orphanage boys, we began moving cinder blocks. I was impressed by how our students did anything that was needed. Tim and Kevin are good block layers. Robin-Lynn and Morgan carried blocks, supplied mortar, and helped in the kitchen.

Everyone was totally engaged, and the wall started up. Then someone yelled that he had found a tarantula. All work stopped, and everyone came to investigate. The tarantula was in a block that Morgan had picked up.





Day of Black Crosses



We headed back to the boy's dorm Wednesday. Robin-Lynn and I began moving blocks to the walk and into the dorm. Small boys helped us. Suddenly, a commotion broke out. The boys had sticks beating something—a crab. They beat it senseless and claimed their trophy. When Robin hit one of the blocks with a hammer, a million ants popped through the hole. We eliminated the ants and finished work for the day.

After lunch we went to market in town and passed a building with 14 black crosses that led to a place of satanic worship. Three young people were praying with candles at the second black cross. We continued walking and saw the "parking lot" for donkeys.

We went to a graveyard overgrown with weeds and saw graves broken open by the earthquake; several graves had goats on them. I asked our Haitian translator if the goats had anything to do with Satan worship, because I had seen goats tied up everywhere. He affirmed my suspicion. They often take goats to the falls of Satan and sacrifice them. We saw a bar sign that looked like Mary and Jesus, but our Haitian said, "That is evil." It was Satan and his mother.





Long-Sleeved Shirts and Mud



After an early breakfast on Thursday, we returned to the walls. Running the row of blocks just above the window was tricky because the blocks and windows were not on the same level. Brother Turner's favorite saying came in handy: "Don't worry; the plaster will cover any mistake."

Brother Turner said that before coming to Haiti, God spoke to him about getting rid of his short-sleeved shirts. He gave them to his son but did not understand why until he arrived in Haiti. All the pastors wore long-sleeved white shirts. He would not have been accepted as a pastor and as an equal if he had arrived wearing short-sleeved shirts. I met several Haitian pastors; they all wore shirts with long sleeves.

Saturday after breakfast, we traveled to "La Boule"—The Mud—where Pastor and Doctor Charles has a medical clinic and church. His family lives in the States and constantly urges him to come to the States. He refuses. "I am afraid of the States because I fear that 'things' in the US will seduce me, and I might not return to Haiti. My people here need me."





Donkey Ride to Church



I was up at 5:00 a.m. Sunday preparing my backpack. I needed to wear clothes that could get dirty in the mud, which is why I wore jeans, a polo shirt, and my smelly tennis shoes. I pushed my preaching clothes and new shoes in the backpack so they would not get wet. We rode an hour on motorcycles before we got to the dirt (mud) road leading to the church. Several young men were waiting, some with motorcycles, others on foot, and one with a donkey. "That's neat," I thought, and then he said, "Get on."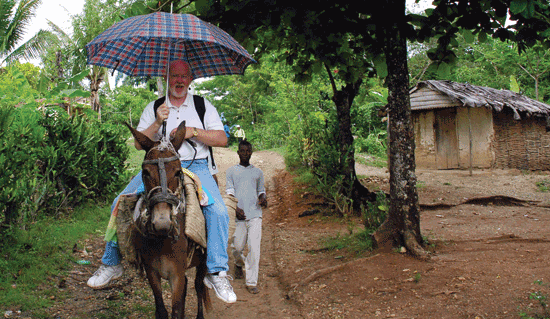 Either my legs were too short or the donkey's were too long. There were no stirrups. My donkey holder grasped my left leg to help me up, and I found myself belly down on top of the donkey. With a total lack of finesse, I climbed into the wooden saddle. The young men at the bus stop were almost rolling on the ground trying to contain their laughter. The donkey holder tossed me the reigns. Since I had seen the Lone Ranger pull the reigns left and right to guide his horse, I did the same. It took an hour by donkey to get to church where I preached from Matthew 13 through an interpreter.

Then it was time to change clothes for the return trip. When I again mounted the donkey, it began to rain. They gave me an umbrella. What a sight! The ride was uneventful, except for one fork in the road where the donkey and I had a difference of opinion.

When we arrived at the pavement, the donkey's legs were still too long. I stretched my left leg and when my foot touched the ground, it immediately skidded under the donkey slinging me, my backpack, and the wooden saddle under the donkey. Everybody laughed, except me.




Project Concordance and Dictionary



Monday morning before we left, I talked with Pastor Charles and Pastor John, young men in their early 30s. They are doing theological studies one day a week in Port-au-Prince. We spoke in French. I asked them what they needed—a French Bible Concordance and a French Bible Dictionary. Since 12 pastors are literate enough to use the books, I committed myself to locate 12 concordances and 12 dictionaries, and send them by Ken Akers.

The group fellowship in Haiti was great, the relationship with the Haitians very cordial. I'm glad I had a chance to participate and to take the FWBBC students. It was especially good to have my granddaughter Morgan on the trip where I was able to see her heart in action. Mission accomplished.

We returned to the hospitality house and shared our feelings. We had come to be a blessing but were abundantly blessed. Though we saw devastation and extreme poverty, we also saw the generosity of the nations and of God's people. But most of all, we were uplifted by people who love Jesus supremely in spite of what they do not have. As I listened to everyone, I was blessed to hear the FWBBC students express that they will be forever changed by their experience in Haiti. That, of course, was why we went.




About the Writer:

John Murray is director of Christian Service at Free Will Baptist Bible College. Before joining the FWBBC faculty in 1991, he served as a missionary to France (1977-1989).