February-
March 2018
Stewardship
Lessons
------------------
news about the denomination

The following news items apply to (or affect) the Free Will Baptist denomination scattered across the nation and around the world.To read more about Free Will Baptists and the various departments that make up the national organization, visit www.nafwb.org.

Convention Housing Update
ANTIOCH, TN—The 2018 convention hotel room block will stand in sharp contrast to the 2017 block when the Galt House Hotel accommodated all of our hotel room needs. In Little Rock, blocking an adequate number of rooms for the convention required contracts with ten downtown hotel properties.

Because many of these hotels are not within walking distance of Statehouse Convention Center, shuttles will be provided to eight of the ten hotels, with stops at the convention center and the Robinson Center.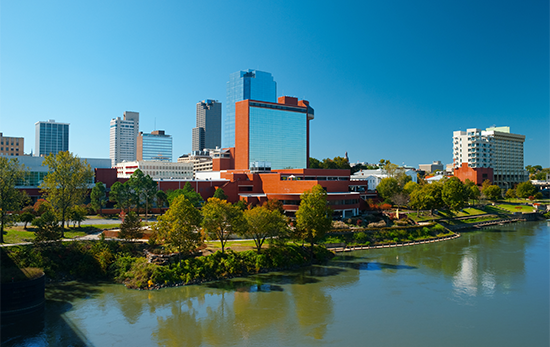 Little Rock Marriott (pictured above, center) will serve as the headquarters hotel. It is connected to the Statehouse Convention Center. Doubletree by Hilton Little Rock sits a block and a half from the Marriott and is connected to the Robinson Center, where teen services will be held.

Rates range from $84 to $155 among the ten properties, with several outlying hotels offering complimentary breakfast and various other amenities to attendees. The Convention Housing form will be published in the April-May issue of ONE Magazine, with more comprehensive information about each hotel. Housing will open Monday, May 14, 9:00 a.m. CDT.
Foundation Grants Continue in 2018
ANTIOCH, TN—Free Will Baptist Foundation announced it will once again award grants in 2018. The program, which started in 2015 with $75,000 in pilot grants given to national departments and commissions, expanded in 2017 when Free Will Baptist ministries received $500,000.

Any ministry connected to the National Association of Free Will Baptists (NAFWB) is eligible to apply. This means all state and district associations and state and district-owned ministries are eligible to apply, as they either report directly to the NAFWB or are members of FWB associations. Local churches may also apply if they belong to a district association that is a member of a state that belongs to the NAFWB.

Until 2016, the Foundation largely served as a channel for individuals to direct endowments and planned gifts to help fund ministries perpetually. The recent addition of an estate plan ministry, which has helped more than 1,700 families with end-of-life planning, has directed over $17 million to ministries through bequests. However, the grant program allows the Foundation to fund the needs of ministries directly.

The purpose of the program is to fund capital needs of our ministries. It is not designed to support the general fund or shore up the annual budget. Instead, grants should be invested in projects with long-lasting effects on the ministry and the denomination as a whole. All ministries awarded a grant must file follow-up report(s) with the Foundation to verify how their grant funding was used.

The Foundation will again award $500,000 in 2018. The application deadline is March 15, 2018. Grants will be awarded during the Foundation board meeting in April 2018. Information regarding grant applications can be obtained by contacting the Foundation office at 877-336-7575 or by emailing foundation@nafwb.org.
Leading With Integrity: 2017 Leadership Conference
NASHVILLE, TN—One hundred seventy-two pastors, denominational officials, and church leaders from 19 states and a Canadian province gathered December 4-5 at Nashville Airport Marriott Hotel for the 2017 Free Will Baptist Leadership Conference. The two-day conference featured keynote speaker Clark Dickerson who explored the theme Leading With Integrity.



With 40 years fundraising experience (and more than three decades as a fund-raising consultant for Christian organizations), Dickerson has provided counsel for hundreds of organizations. For eight years, Clark served as vice president of TCM International, a mission organization serving Eastern Europe prior to the fall of the Iron Curtain, traveling extensively throughout the Communist world to provide Christians a variety of spiritual and relief programs.

Clark founded Dickerson and Associates in 1985 and later merged with a friend to form Dickerson, Bakker, and Associates. As capital campaigns team leader for the company, today he focuses almost exclusively on assisting ministries, providing guidance to other consulting team members,
and sharing his knowledge and experience through teaching, writing, and presenting.
Clark explored three important topics during his sessions: 1) the selection and training of board members; 2) effective governance by a board of directors; and 3) the importance of effective fundraising and public relations. The sessions were well received, sparking conversation and debate on these important topics.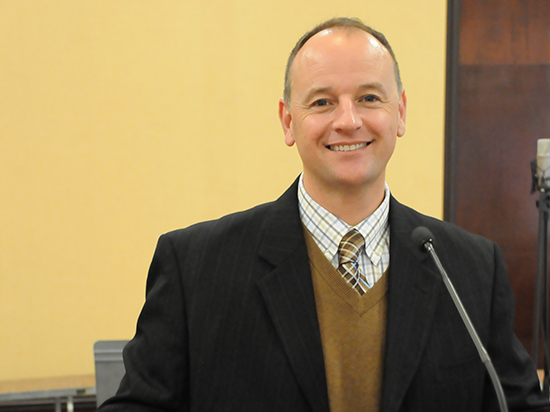 In additional keynote sessions, Will Beauchamp (pictured above), pastor of First FWB Church Tampa, Florida, shared two lessons a biblical servant must learn when facing discouraging situations: 1) when others try to distract you, stay focused; and 2) when others try to slander you, stay faithful. Gene Williams, pastor of Parkers Chapel FWB Church, Greenville, North Carolina, explored the importance of accountability in the life of a leader, sharing four "pillars" upon which this important characteristic are built—responsibility, answerability, dependability, and liability.

Attendees enjoyed music provided by The Welch College Choir and Rejoice! Ensemble directed by Dr. James Stevens. Excellent meals provided ample opportunity for casual conversation, and Tuesday afternoon free time offered conference goers opportunity to renew friendships or enjoy the sights of Music City.

Eight national boards met in conjunction with the conference, including the Executive Committee, Board of Retirement, Free Will Baptist Foundation, Home Missions, International Missions, Randall House, WNAC, and Welch College, along with the 2017-2018 Nominating Committee.

"Iron sharpens iron," Tennessean Corey Minter observed as the conference drew to a close. "From sessions to services to fellowship, I left this year's leadership conference more encouraged and thankful for our movement."

The 2018 Leadership Conference will be held December 3-4 at the Nashville Airport Marriott. For updates, visit www.nafwb.org/leadershipconference.