April-May 2018
Soccer and the Gospel
------------------
news about the denomination

The following news items apply to (or affect) the Free Will Baptist denomination scattered across the nation and around the world.To read more about Free Will Baptists and the various departments that make up the national organization, visit www.nafwb.org.

Billy Melvin With the Lord
Englewood, Florida—Dr. Billy A. Melvin (pictured below), former executive secretary of the National Association, died February 1, 2018, at age 88. Melvin served as executive secretary from 1959 to 1966 before accepting a position as executive director of the National Association of Evangelicals, where he remained until retirement in 1995.

Born in Macon, Georgia, in 1929, Billy spent his formative years in Durham, North Carolina. He studied theology at Welch College from 1947-1949 before completing an undergraduate degree at Taylor University in 1951. He later attended Asbury Theological Seminary and completed a M.Div. at Union Theological Seminary. He received honorary doctorate degrees from Azusa Pacific University (1968), Taylor University (1984), and Huntington College (1995), and was awarded the Legion of Honor from Taylor University in 1993. Before starting his work in denominational leadership, Melvin pastored churches in Kentucky and Virginia.



During Dr. Melvin's tenure as executive secretary, the National Association incorporated and received federal tax identification. National departments constructed and moved into a new building. The Sunday School Department (now Randall House Publications) was established and produced its first curriculum. The denomination added the Historical Commission and the Commission on Theological Liberalism and began endorsing chaplains for the military. The Master's Men department was officially recognized, and the Executive Office published the Free Will Baptist Hymn Book.

In addition to his role as executive secretary, Melvin served as editor of Contact magazine (now ONE Magazine). Under his leadership, the publication expanded from 16 to 28 pages, and readership rose above 7,000. Melvin additionally authored the Randall House Minister's Manual and numerous articles and resources for pastors.

Memorial services were held in Englewood, Florida, and Nashville, Tennessee. Memorial donations may be made to FWB International Missions (fwbgo.com/give), World Relief (worldrelief.org), or the donor's choice of charity.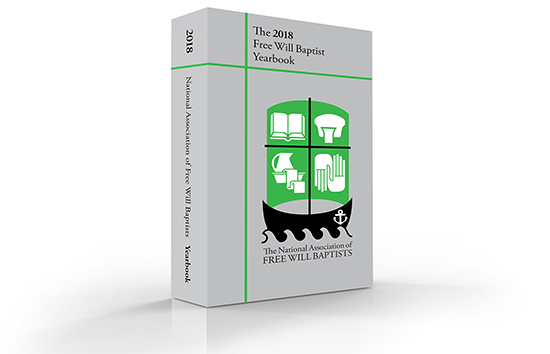 2018 Yearbooks Now Available
Antioch, TN—The 2018 Free Will Baptist Yearbooks have been mailed to district association clerks for distribution of complimentary copies to local churches. If you wish to purchase a copy for personal use, contact Randall House Publications at 800-877-7030 or visit
www.RandallHouse.com.
Introducing 2018 Nominees for Standing Boards and Commissions
Antioch, TN—The 2018 Nominating Committee has presented the following nominees to be considered for the 2018 Convention election, according to Cory Thompson (OK), committee chairman. Please note: the following boards do not elect members in 2018: Home Missions (North American Ministries), Board of Retirement, and Free Will Baptist Foundation.

Welch College to Be Elected in 2018:

2024
Will Beauchamp (FL); replacing himself
Theron Scott (SC)
Tim Campbell (AR)

Theron Scott has pastored Horse Branch FWB Church in Turbeville, South Carolina, since 2011, after pastoring in the state for more than 30 years. He earned a B.A. in Pastoral Training from Welch College in 1977 and is currently completing the M.A. in Theology and Ministry from Welch College. In addition to moderating several district associations, Scott served as a member of the South Carolina Home Missions Board for 10 years. He has been both board member and director of the South Carolina State Camp and a member of the South Carolina Conference Presbytery Board.

Tim Campbell pastors First FWB Church in Walnut Ridge, Arkansas. Previously, he served as executive director of the Arkansas State Association (2002-2015) and director of stewardship development at Welch College (1995-2002). A Welch College alumnus with a B.A. in Pastoral Training from Welch College (1990), Campbell has been a member of the Executive Board of the National Association and has been active in leadership at national, state, and district levels.

International Missions to Be Elected in 2018:

2024
Danny Gasperson (NC)
Mark Price (OH); replacing himself
Robert Posner (TX); replacing himself

Danny Gasperson has pastored Zephyr Hills FWB Church in Asheville, North Carolina, for 18 years. A 1984 graduate of Welch College, he earned an M.A. from Bob Jones University in 1985. Gasperson is a board member-at-large for the Executive Board of the North Carolina State Association, a member of the Blue Ridge Association Mission Board, a regular team leader for The Hanna Project, and an instructor for Perspectives on the World Christian Movement. He is a member of the Go Global team, which seeks to increase awareness and involvement in missions. Danny and his wife Jackie have two children, Rebecca and Joshua, and two grandsons, Nathan and Hudson.

Randall House Publications to Be Elected in 2018:

2024
Kendall Ross (AR)
Mike Mounts (OH); replacing himself
Mike Trimble (MI); replacing himself

Kendall Ross has pastored Ozark FWB Church in Ozark, Arkansas, since 2009. Previously, he served more than ten years as minister of music and church development at Cavanaugh FWB Church in Forth Smith, Arkansas. Ross is an adjunct professor at Arkansas Tech University and University of Arkansas, Fort Smith. He earned a B.S. in Mechanical Engineering from University of Oklahoma in 1986, a B.A. in Leadership and Ministry from Randall University in 2001, and the M.A. in Leadership and Ministry from Randall University in 2012. He is a member of the Executive Board of the Arkansas State Association, a member of the Board of Trustees for Randall University, a member of the Grantham Theological Committee, and the clerk of the Unity Association. Kendall and his wife Denise have four children and three granddaughters.

Women Nationally Active for Christ to Be Elected in 2018:

2024
Amy Johnson (IL); replacing herself
Khristi Shores (NM)
Sarah Sargent (OH); replacing herself

Khristi Shores and her husband Mark have spent the last 16 years at Mountain View FWB Church in Albuquerque, New Mexico—first as church planters then in pastoral ministry. An alumnus of Welch College, Khristi is president of New Mexico Women Active for Christ after serving 14 years as vice president. Khristi and her husband Mark are regular team leaders for the E-TEAM student missions program. The couple has two sons, John and Joshua.

Commission for Theological Integrity
2019 Thomas Marberry (OK); replacing Randy Corn, resigned
2023 Matt Pinson (TN); replacing himself

Thomas Marberry is pastor of First FWB Church, Oklahoma City, Oklahoma, and distinguished professor of New Testament at Randall University. Previously, he served as vice president for academic affairs at Randall University. Marberry earned a B.A. from Baylor University, a M.Div. from Southwestern Baptist Theological Seminary, and a Ph.D. in New Testament studies from Baylor University. He has taught Greek, theology, and church history for almost four decades, along with writing extensively. He published two Randall House Bible Commentaries—Galatians and 1,2,3 John, and is currently completing a commentary on the book of Luke. Dr. Marberry regularly contributes to Integrity: A Journal of Christian Thought, and is a frequent presenter at the annual theological symposium.

Historical Commission
2023 David Crowe (TN); replacing himself

Music Commission
2023 James Stevens, (TN); replacing himself

Media Commission
2023 Stephen Lopes, (TN); replacing himself

Executive Committee to be elected in 2018:

2021
Glenn Poston (TN); replacing himself
Edwin Hayes (OH); replacing himself
Mike Wade (OK); replacing himself

General Officers
Moderator: Tim York (TN)
Assistant Moderator:
William Smith (GA)
Clerk: Randy Bryant (FL)
Assistant Clerk: Ernie Lewis (IL)