December-
January 2018
Discipleship: Fruit
Bearing Fruit
------------------
news at welch college

Welch College (formerly Free Will Baptist Bible College) in Nashville, TN, has been the official college of the Free Will Baptist Denomination since 1942. To find out more information about the school, visit www.Welch.edu.
Welch Announces Nursing Collaborative
President Matt Pinson announced a collaborative relationship with three universities to address the increasing demand for nurses. Belmont University, Cumberland University, and Union University Hendersonville have each agreed to create a seamless path for Welch College students to be admitted to their respective schools of nursing.

According to Pinson, Welch freshmen will pursue an associate's degree with a Pre-Nursing/Biology major at Welch. Students will be able to take advantage of Tennessee Promise along with other federal and Welch-based financial aid. The students will begin volunteering in a healthcare setting, primarily within the HighPoint Healthcare System.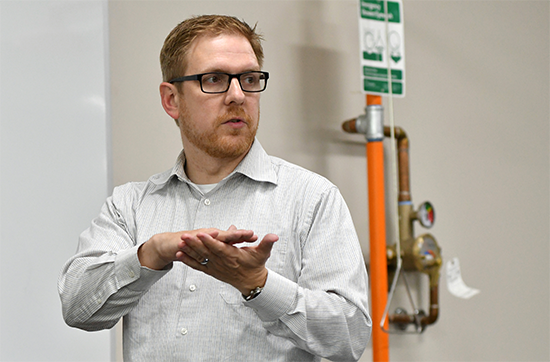 Photo: Dr. Ian Hawkins, biology professor, Welch College.
Upon completing the Welch College associate's degree, graduates will choose from one of three nursing education paths at partner universities. Nursing students may then continue accessing Welch housing and other student support services to promote the likelihood of academic success. When appropriate, nursing students will participate in clinical education settings in Gallatin and Sumner County. Welch students will be mentored and advised throughout the four-year academic process.

Charles Lea, special assistant to the president at Welch College, worked with each institution to put the collaborative agreements together. "Each cooperating university will work within the guidelines of the agreement to guarantee entrance into Nursing School," Lea stated. "Union University Hendersonville, which has previously only offered adult degree opportunities in nursing, will develop a traditional track for traditional undergraduates," he added. The collaboration will eliminate the delay many students face when seeking admission to nursing school, according to Lea.

Welch is making a considerable investment in faculty, equipment, and instructional materials to make sure participants in this new program are well prepared and qualified for the rigors of nursing majors. Corporate sponsors and grant applications have been made to offset the start-up cost of this new educational initiative.

HighPoint Health System has already contributed $25,000 to the initiative. Susan Peach, CEO of Sumner Regional Hospital, presented the gift to Welch for the program. "My hope is that this partnership between these schools will fill the need for more nurses in the midstate," Peach stated.
Contact Dr. Charles Lea at Welch College for more information about this program. Welch College is located on a beautiful, new campus in Gallatin on Bison Trail. Visit Welch.edu or call 615-675-5225.
College Rises in U.S. News & World Report Rankings
Welch College received notification that the institution ranks 26th among "Best Regional Colleges" (South Region) in U.S. News & World Report's 2018 edition of America's Best Colleges guidebook, according to President Matt Pinson. The numerical ranking of 26 in the 2018 South Region indicates a rise of five places above the 2017 edition ranking of 31. Welch also ranked 21 among "Best Value" Colleges in the South, and 5th "Best Value" of all colleges and universities in Tennessee.

"How gratifying it is to see Welch ranked among America's best colleges in this prestigious national study," President Pinson said. "We are delighted that the college's academic programs are recognized not only by our supporters, but also by those beyond the institution. This recognition reassures prospective students and their parents that Welch remains a top-quality institution of higher learning that delivers on their educational investment, while keeping Christ at the center of the college experience."

The "Best Regional Colleges" category where Welch is ranked includes 324 institutions that focus on undergraduate education and offer a range of degree programs in the liberal arts and in professional fields such as business, nursing, and education. Colleges in this category are ranked within four geographic regions: North, South, Midwest, and West.

U.S. News rankings offer opportunity to judge the relative quality of institutions based on widely accepted indicators of excellence: peer assessment, graduation and retention rates, faculty resources, student selectivity, financial resources, alumni giving, and more.

Welch received especially high marks in four strategic areas—percent of classes with under 20 students (90%), student to faculty ratio (8/1), first-year student retention rate (71%), and freshmen in the top 25% of their high school class (52%).

Provost Matthew McAffee said, "Once again Welch College has made significant gains in U.S. News & World Report rankings, moving from 31 to 26. Although rankings like this are not the only gauge of an institution's excellence and academic credibility, they are nonetheless helpful external benchmarks for us. This year again marks an incremental gain in our reputation among peer institutions. We are thankful for this blessing."

More information is available about the rankings and methodology in the annual America's Best Colleges guidebook at: www.usnews.com/collegemeth.