April-May 2018
Soccer and the Gospel
------------------
news at welch college

Welch College (formerly Free Will Baptist Bible College) in Nashville, TN, has been the official college of the Free Will Baptist Denomination since 1942. To find out more information about the school, visit www.Welch.edu.
Nursing Degree Formalized With Union University
On Thursday, December 7, Welch College President Dr. Matt Pinson and Union University President Dr. Dub Oliver (pictured below) signed an agreement creating a new Bachelor of Science in Nursing (B.S.N.) degree, according to Dr. Greg Ketteman, vice president for strategic initiatives.

"In August, President Pinson announced a collaborative relationship with three universities to address the increasing demand for nurses," Ketteman said. "Belmont University, Cumberland University, and Union University have each agreed to create a seamless path for Welch College students to be admitted to their Schools of Nursing."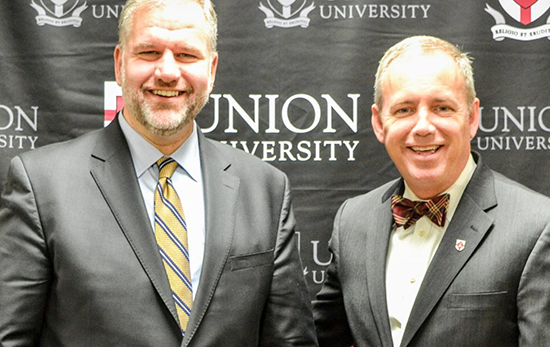 According to Ketteman, in this new arrangement with Union, Welch freshmen will pursue an associate's (A.S.) degree with a Pre-Nursing/Biology major at Welch. Students will be able to take advantage of Tennessee Promise, as well as other federal and Welch-based financial aid. These students will begin volunteering in a healthcare setting, primarily within the HighPoint Health System.

Upon completing the Welch A.S. degree, graduates will transfer into the B.S.N. program at Union, living on the Welch campus while taking nursing courses at Union's nearby Hendersonville campus. When appropriate, nursing students will participate in clinical education settings in Gallatin and Sumner County. Welch students will be mentored and advised throughout the four-year academic process.

Ketteman said, "One of the great things about this program is that it allows students entrance into a well-known B.S.N. program at a time when admission to such programs is very competitive. It also enables students to complete their B.S.N. at a significantly lower price than at most institutions, since the first two years will be at Welch, which has a significantly lower tuition rate than most private colleges. The last two years will be at Union, which also has competitively priced tuition."

He continued, "Welch is making a considerable investment in faculty, equipment, and instructional materials to make sure participants in the new program are well prepared and qualified for the rigors of nursing majors. Corporate sponsors and grant applications have been made to offset the start-up cost of this new educational initiative."

HighPoint Health System has already contributed $25,000 toward the initiative. Susan Peach, CEO of Sumner Regional Hospital, recently presented a gift to Welch for its new nursing collaborative. "My hope is that this partnership between these schools will fill the need for more nurses in the Mid-state," Peach noted.

Contact Dr. Ian Hawkins (ihawkins@welch.edu) for more information about the program.
Students Make President and Provost's Honor Roll
The fall 2017 semester at Welch College ended with 93 students receiving academic recognition, according to Provost Matthew McAffee. This honor roll includes both online and Enriched Adult Studies students whose fall courses ended in December.

Thirty-seven students made all A's and were placed on the President's List—9 seniors, 6 juniors, 9 sophomores, and 13 freshmen. Fifty-six earned a 3.25 GPA and all A's and B's and were placed on the Provost's list—15 seniors, 8 juniors, 11 sophomores, and 22 freshmen.

President's List: "A" Honor Roll

Kandace Ailworth (Fr.) TN
Michelle Alexander (Fr.) TN
Samuel Benninghoff (Sr.) TN
Catherine Blades (Fr.) TN
Laura Boivin (Fr.) TN
Sarah Brown (So.) TN
Joshua Burgus (Sr.) TN
Jimmy Daniels (Sr.) AR
Summer Elliott (So.) QC
Micah Feltner (Fr.) TN
Jakob Gates (Fr.) TN
Jalynn Hood (So.) TN
Joshua Hunter (Jr.) AR
Cheyenne Johnson (Fr.) TN
Kinsley Kivette (So.) TN
Dakota Kron (Jr.) TN
Jonathan Lewis (Sr.) IL
Taylor Marsh (Sr.) TN
Hailee Morgan (Fr.) GA
Hannah Morgan (Jr.) TN
Jonathan Payne (Fr.) IL
Kasey Perry (Sr.) NC
Daniel Rojas (Jr.) TN
Kendal Ryan (Fr.) IL
Steven Simpkins (Jr.) TN
Kori Slemp (Sr.) VA
Halen Stidham (So.) AL
Sonny Thomas (So.) NC
Deborah Trifonova (So.) BG
Abby Walker (Jr.) NC
Abigail Warren (So.) TN
Ryan Whiticker (Sr.) TN
Kullen Williams (Fr.) TN
Brittany Wilson (So.) NC
Destinee Woolett (Fr.) SD
Whitney Wright (Sr.) OH
Zealtiel Zuniga Anaya (Fr.) AR

Provost's List: "B" Honor Roll

Seniors
Stacy Allison, TN
Rachel Anderson, TN
Gabriel Cameron, GA
Benjamin Campbell, AR
Alyssa Hill, VA
Russell Houske, TN
Anna Kear, TN
Jacob Lute, OH
Rae Mahaney, OH
Hailee Mann, TN
Thomas Moody, TN
Kayla Newland, TN
Brandon Presley, TN
Maredith Ryan, IL
Stephen Seeley, NC

Juniors
Dalton Alvis, PA
Erica Brown, GA
Keren Delgado, AR
Thomas Cummings, TN
Daniel Hubin, TN
David Robinson, NC
Elizabeth Stevanus, TN
Rachel White, VA

Sophomores
Michelle Bigelow, CA
Mary Brown, AR
Elisha Cameron, GA
Baylea Freeman, VA
Kaliesha Garrison, MO
Andrew Glass, OH
Jacklyn Grizzle, TN
Jacqueline Hunter, AR
Avery Jones, OK
Mariah Moore, KS
Sarah Pierce, IL

Freshmen
Riley Bell, TN
Brice Carter, GA
Alegna Cochran, TN
Victoria Crook, TN
Michaela Easley, TN
Jessalyn Eubanks, IL
Garrett Galbreath, TN
Christy Harris, NC
Mark Henry, MO
Jerry Hopper, AR
Kelsey Horton, TN
Jenna Hurt, NC
Kylie Johnson, MI
Kayla Jowers, VA
Jolee McClure, TN
Jacob Nettles, MO
Seth Oliver, TN
Taylor Pate, FL
Ashlee Presley, TN
Mallie Sharenberger, TN
Gabriella Smith, CO

Victoria Thomsen, TN