April-May 2018
Soccer and the Gospel
------------------
NEWS ACROSS THE NATION
Free Will Baptist North American Ministries is dedicated to planting churches across America as well as Canada, Mexico, the Virgin Islands, and Puerto Rico. Chaplains minister to thousands of men and women in the Army, Navy, Air Force, National Guard, and Reserve forces. And cross cultural church planting specialists connect with people who have come to America from all over the world. Learn more about our ministry: www.FWBNAM.com.

North American Ministries Hosts First Pastors' "Boot Camp"
Antioch, TN—North American Ministries (NAM) hosted the first Pastors' Boot Camp training event January 23-24, at the National office building in Antioch, Tennessee. Twenty pastors from seven states attended the two-day event, which featured 12 sessions of training on information ranging from security to social media, leadership, and church health issues.

Speakers included NAM directors David Crowe, Jim McComas, Brad Ransom, and Kenneth Akers. Guest speakers included NAM Board Chairman Jeff Jones and Robert J. Morgan, teaching pastor of the Donelson Fellowship.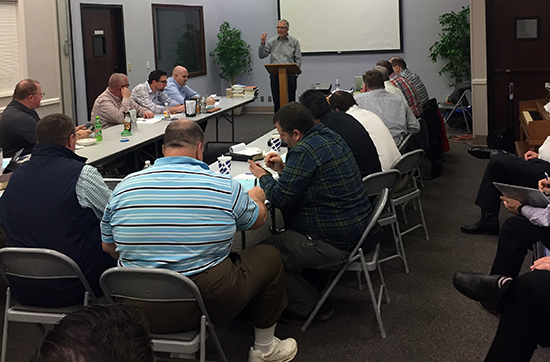 Response to the free event was extremely positive as participants enjoyed great teaching, fellowship, and food provided by NAM. Sessions were additionally offered on Facebook Live on the NAM page. Hundreds of viewers joined the sessions via the Internet.

Brian Cameron, pastor of White Oaks FWB Church in Macon, Georgia, commented, "I attended the Pastors' Boot Camp not really knowing what I would get out of it. What I received was practical help for my ministry, insights from men with decades of experience, wonderful fellowship, and tools that will aid me well into the future. The entire staff of NAM was extremely helpful and took the time to invest in me as a pastor. I am extremely grateful. The next time they have a Boot Camp, sign up as soon as you can. I promise you will not regret it."
Introducing New Church Planters
Antioch, TN—The North American Ministries (NAM) Board of Directors met in Nashville Wednesday, December 6, 2017. During the meeting, three new church planting teams were approved for service.

The West Virginia State Mission Board and NAM partnered to send Maitland and Jessica Bailey to plant a church in Morgantown, West Virginia. In the northern part of the state, Morgantown boasts a population of over 30,000 people. In addition, the city is home to West Virginia University, which has an enrollment of over 27,000 students.

Zach and Alishia Parent grew up in Wellington, Kansas. After attending college at Randall University they are following God's call to return to their home state and plant a church in McPherson, Kansas. Zach comes to NAM from Eastside FWB Church in Muldrow, Oklahoma, where he served as youth pastor.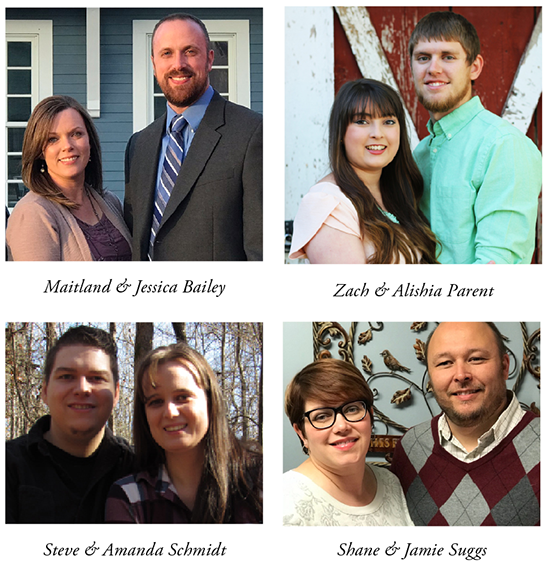 Steve and Amanda Schmidt will start a church in Albuquerque, New Mexico, the largest city in the state. Steve and Amanda were both born in Missouri, but Steve was raised in Wyoming. Steve comes to NAM after serving churches in Missouri, Oklahoma, and Arkansas.

Shane and Jamie Suggs are associate church planters with Josh and Ashley Bennett in Tifton, Georgia, and joint project workers with the State of Georgia. Shane's responsibilities at Awaken FWB Church include leadership development, business operations, children's ministry, and more.
Shane and his family come to NAM from Alabama. He has been a pastor, church planter, and youth pastor in various churches. Shane and Jamie have two daughters, Grace and Eden.

Brad Ransom, director of church planting said, "We are excited about the future for these newly commissioned church planters. Please pray for these families as they venture into new fields of service."
For the latest on church planters, visit www.FWBNAM.com.