June-July 2017
The Power of
Empowerment
------------------
news around the world
Free Will Baptist International Missions serves churches, pastors, and people by helping them fulfill their role in establishing churches beyond North America so unreached peoples can know the joy of a relationship with the living God. To find out more about the ministry of Free Will Baptist International Missions, visit www.fwbgo.com.
Stogsdill Resigns

Antioch, TN—The Board of Free Will Baptist International Missions voted to accept the resignation of Jennifer Stogsdill from her assignment with The Hanna Project (a subsidiary non-governmental organization of IM) through an email ballot March 2, 2017. Jenny submitted an official letter of resignation to IM on February 28, asking that her resignation be effective March 1. "I'm resigning for health reasons, especially because of issues relating to my back," the 32-year-old wrote.



Appointed to work with the Malaga team in April 2010, the Missouri native arrived in Spain in 2012. From the beginning, she struggled with back and knee problems. Yet, she worked hard to solidify Spanish language skills, understand the culture, study Arabic, build connections with other students, and serve the immigrant population.

Jenny returned to the States July 11, 2016, and has spent much of her time seeking treatment for her health needs, undergoing and recovering from knee surgery, and seeking God's guidance for the future.

"I'm so thankful the Lord and the IM Board provided me the opportunity to serve under The Hanna Project these last five years," Jenny wrote. "I've grown so much and am saddened to leave such a great organization."

Jim Combs With the Lord

Antioch, TN—James Kemper Combs, former missionary to Brazil, entered his heavenly home, February 7, 2017. Diagnosed last November with pancreatic cancer, he achieved victory over pain and suffering on Tuesday afternoon.

Appointed as missionaries in April 1964, Jim and his wife Shirley (Roberts) departed for Brazil in December of the same year. The couple spent their first term in Araras, São Paulo. They served as church planters in Araras, Tubarão, and Jaboticabal during their missionary career, although the majority of their 40-year ministry was spent in Araras.

The crisis of children abandoned to the streets of Araras led to the founding of Lar Nova Vida (New Life Children's Home). Jim and Shirley worked with the home, providing oversight of the ministry.
Jim and Shirley served in Brazil from 1964-1980. They returned to the States to teach missions at Hillsdale College (now Randall University). After five years, their hearts led them back to Brazil. In 2004, they retired but remained in Brazil until 2009.

A celebration of Jim's 79 years of life and ministry was held at Randall University Saturday, February 11.

Cuba National Association Celebrates 75 Years

Pinar del Río, Cuba—Cuban Free Will Baptists celebrated 75 years of organized ministry during their national convention, February 23-26, 2017. The four-day event, held on Seminario Los Cedros del Líbano (The Cedars of Lebanon Seminary) property, celebrated the theme El lo ha Hecho, "He Did It." More than 500 people attended the event-filled days.

Kenneth (regional director for Latin America and Africa) and Rejane Eagleton and General Director Clint Morgan represented the Mission, arriving in Cuba on Tuesday, February 21. The day before the convention was spent in meetings with the directiva (executive committee) and the international missions committee. Goals for International Missions' partnership agreement for the coming year were set.

On Thursday, February 23, participants reviewed the 75 years of Free Will Baptists' history in Cuba. Friday evening was dedicated to missions, both national and international. The service closed with the commissioning of a missionary family to Côte d'Ivoire.

Regional Director Kenneth Eagleton said, "God is calling those already engaged in ministry in Cuba to reach the nations. The Cuban Missions Board approved nine couples and two single ladies as cross-cultural missionary candidates. The goal is to send missionaries where no one else is willing to go."

On Saturday, two ladies received degrees during the seminary's graduation ceremony. Two young men were ordained as pastors. The convention concluded on Sunday with two morning services and the Lord's Supper.

Kenneth and Rejane continued on the island for an additional week, visiting churches on the eastern side and meeting with association officials.
Snapshots Around the World
Panama—Pastor Cirilo Mendoza of the Good News Church in Chitré, Panama, baptized four young people (pictured below) near the end of their family retreat during Carnaval.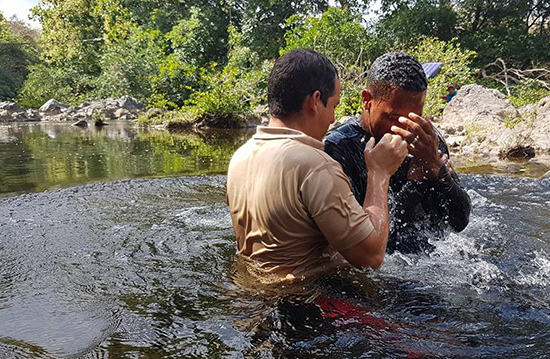 Côte d'Ivoire—Pastor Alexis Hien from Ivory Coast (Côte d'Ivoire), Africa, announced five people are the first to become Christ-followers in the village of Guiwile. They built a structure (pictured below) for a place of worship. A new mission church is born!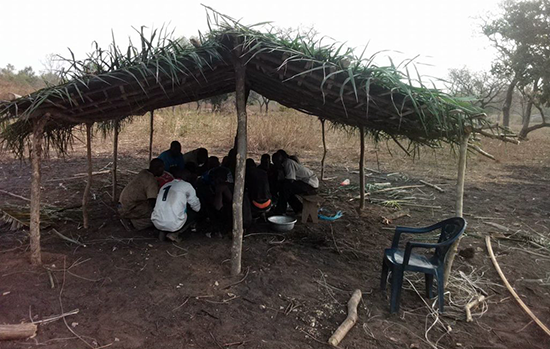 Bulgaria—On Saturday, February 25, many of Jonathan and Amy's new friends in Pleven participated in a "Bread House" event led by Vanya Trifonova. As Vanya taught the ladies how to make bread (below), she illustrated how elements of breadmaking teach about Jesus, the "Bread of Life." While the bread baked, Vanya led the group in an insightful discussion on what the Bible teaches about showing love to others. One lady said, "I've never thought before about how the sweetness of Kozunak (a sweet bread made at Easter) can be a reminder to me of God's love for us! I will think of that whenever I make it from now on."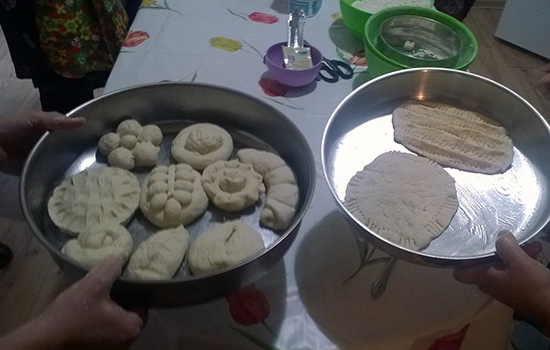 Côte d'Ivoire—The Yopougon FWB Church in Abidjan, Côte d'Ivoire (Ivory Coast), bought property in another area of Yopougon and began construction of their new church building, called Peniel FWB Church. Though the building is still under construction (pictured below), they held a dedication and inaugural service on March 5. As part of the celebration, five people were baptized, and a meal was served. The church has decided to have two campuses and will continue to use the rented hall they have been meeting in for years. This densely populated area of Abidjan is home to nearly two million people. Photo: Pastor Paul Amiezi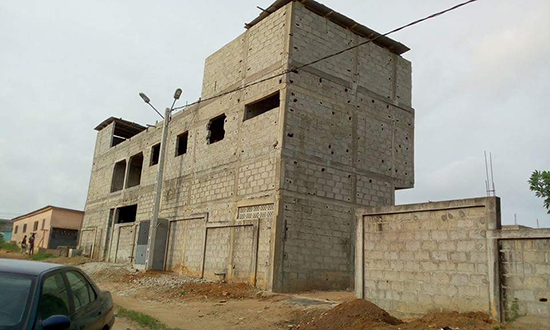 Japan—Heath and Joni Hubbard led a Japanese exchange student to Christ via Facetime. Kim Zegelien, a teacher at Jacksonville Christian Academy in North Carolina, studied the Bible with a Japanese student, Chiaki. Chiaki wanted to verbalize questions in Japanese. Kim connected her with the Hubbards, and they answered many of Chiaki's questions. She asked, "So, can we pray together?" Heath exulted, "We had the pleasure of praying with her to recieve Christ! Half the prayer was in English and half in Japanese. Chiaki lives in Tokyo and we hope to meet her in Japan when we both return in 2018."