December-
January 2018
Discipleship: Fruit
Bearing Fruit
------------------


Partnerships Make It Possible
By Kenneth Eagleton, M.D.
On June 13, 2017, Lázara Madan boarded a plane in Havana, Cuba, headed for Africa. She is from a Free Will Baptist church in the greater Havana area and now serves as X-ray and ultrasound technician at the Free Will Baptist hospital in Doropo, Côte d'Ivoire (Ivory Coast). At least four organizations worked together to make this happen. Partnerships made it possible.

The Association of Free Will Baptist Churches of Cuba recently created an International Missions Committee actively engaged in raising awareness among Cuban churches for cross-cultural missions, receiving and training missionary candidates, and serving as a sending agency. Miguel Abdala, chairman of the committee, asked me if I (as the representative from IM) would help them organize and make contacts with areas where they could send their missionaries. The experience IM has gained in cross-cultural missions over its 82 years of existence permits us to mentor other Free Will Baptist associations and organizations in their infancy.

I happened to know BERACA (an Ivorian Free Will Baptist NGO operating the hospital in Doropo) wanted missionaries to help them fill some professional positions at the hospital in Doropo. I put BERACA in contact with the Cuban Missions Committee and helped them work through the difficulties of communication across their language barrier. They agreed the Ivorian organization would support the Cuban medical missionaries (a single technician, a medical doctor and her pastor-husband, along with their two small children). But there was still a challenge; neither the Cuban Church nor the Ivorian non-profit organization could fund the five tickets to transport the Cubans to Africa.

Women Nationally Active for Christ (WNAC) rose to the challenge of raising $10,000 to move the missionaries. Gifts began pouring in from American women in local, district, and state WAC chapters. People from four organizations in three countries worked together, each contributing their talents, gifts, and resources to accomplish the task at hand.

This is a wonderful example of what mature partnerships can do. Each partner ministry brings to the table what it can contribute toward a common goal. The type of contribution and the amount each provides may vary. On several of the mission fields where IM has labored for over half a century, our involvement has developed from a pioneer phase (where missionaries do all the work due to a lack of trained believers), to a parenting phase (discipling, teaching, guiding, and training new believers and new leaders), to a partnership phase. During this final phase, churches have been firmly planted, believers have been nurtured, mature local leaders have emerged, and church associations and institutions are under local leadership. We become co-laborers in the gospel, working together to further the Kingdom of God, both in those countries, and to the ends of the earth.

Our partnership with Free Will Baptists in Brazil permitted us to help sponsor church-planters Clóvis and Cristina Leandro to open a work in the state of Alagoas, 1,200 miles from the heart of our work in Brazil. We also contribute so a Brazilian missionary can live and witness in a Muslim-majority country where North American workers have much more difficulty receiving permits to live.

Our partnership with the Ivorian Church (in Africa) enables them to send church-planters to areas of Côte d'Ivoire they have identified as needing a church, such as the northern town of Kong, where the vast majority profess to be Muslim. We also cooperate on a church-planting project in the neighboring country of Ghana begun in 2016.

We strive not to create dependency of local believers on outside help. Our goal is to empower them to do more for themselves, discipling them and giving them necessary skills and training be more fruitful in the Lord's work. A tangible example of this is the priority we have given to setting up and resourcing leadership training programs. These look different from field to field and encompass a wide range of programs, including training in Christian education, leadership, Bible institutes, colleges, and seminaries. Even in countries where we no longer have resident missionaries, North American support for these programs continues through our partnerships. In addition to financial subsidies, IM contributes by furnishing some of the teaching resources, helping locate teachers, and facilitating continuing education for the faculty.

At the invitation of our partner Bible training schools, IM has sent teachers to Russia, Central Asia, South Korea, Panama, and Cuba. We are currently helping the seminary in Panama become accredited in that country through partnerships with accredited FWB colleges in the U.S.


Why make partnership agreements?

Partnerships are a practical application of some of the biblical principles and examples for doing ministry:

Interdependence is exemplified in many biblical "one another" injunctions for mutuality among believers. Love one another. Bear one another's burdens. Pray for one another, and many others. We are to live interconnected lives. This is the opposite of independence, which has no biblical basis.

One of the analogies frequently used in the New Testament for what the church is supposed to look like is the body, with its many members with different functions and abilities. As Christians, we are placed in the Body of Christ with various gifts, talents, and resources to be shared with the whole body. This is the opposite of isolation and self-reliance.

The great missionary Paul always worked with a network and multiple leaders. The churches of Antioch of Syria, Ephesus, Philippi, and even Rome served as sending churches, supporters, and centers from which Paul worked. He had a network of trusted leaders, such as Timothy, Titus, and Luke, who not only followed him but also were sent on ministry assignments. Ministry should be accomplished through networks, associations, and partnerships.

Partnerships keep Free Will Baptists in countries without resident North American missionaries from feeling they have been cut off from the FWB family. We have heard more than once from believers in these countries, "Are you going to abandon us?" The answer is no. Partnerships permit us to continue working together but in a different format. We want all of our Free Will Baptist works to feel they are part of one big family.


In a world of over seven billion inhabitants, at least three billion people live in places separated from a gospel witness. They live their entire lives without ever coming into contact with a Christian. They never pass a church. They never have access to the Bible. Partnerships enable us to do a better job of reaching these unreached. Our partners often can go where we can't. We can help them go when otherwise they would be paralyzed by lack of resources.


IM doesn't have active projects in all countries or in all types of possible ministries. Many times, people in our churches contact us with a desire or a calling to serve in a particular geographical area or type of ministry. Though we might not have projects that line up with their calling, we can direct them to our partners working in those areas.

Short-term mission opportunities have proven another great way to serve our partnerships and involve more individuals and churches in cross-cultural missions. E-TEAMs (opportunities for high-school age students), CMP teams (for college students from any school), and Hanna Project teams (for all ages and diverse skills) make important contributions in supporting roles to our partners in different areas of the world. These range from evangelistic events, concerts, construction projects, medical care, camps and retreats (English, family, youth), soccer clinics, renovations (of churches, schools, hospitals, and orphanages), and much more.

Last April, The Hanna Project took a group of people to Doropo, Côte d'Ivoire, Africa. They divided into two groups. One group did some maintenance on the hospital and renovated a house to become the home of a Cuban physician and her family who are coming to help the hospital. The other team, made up of medical personnel, spent time helping the overworked hospital staff and offered some suggestions for improving the level of care. On the next trip, The Hanna Project hopes to have a physician and a surgeon to bring help, hope, and healing.

IM has two types of partnerships. The first is with national associations of Free Will Baptist churches on our more mature fields. We choose to work through the associations to avoid some of the pitfalls that might occur if we were to pick projects from among local churches or individuals. This strengthens the national body and permits us to work with what the association sees as priorities for the good of the whole work. (See Box A above for a list of our partnerships in this category.)

The second type of partnership is with certain Christian organizations with similar values and doctrinal positions. These organizations typically already have Free Will Baptist workers and the support of our churches. Those who feel called to work in a specific geographic area or in a ministry in which IM does not participate can be directed toward one of our partners. We even offer a process through which they can apply through IM, be approved by the Board, and then work with our partner organizations. (See Box B above for a list of partnerships in this category.)

We believe, as we go forward, strategic partnerships will enable Free Will Baptists worldwide to make the best use of resources with the greatest impact for the Kingdom. To provide the attention needed to this area, overseas leadership now has a director of field ministry personnel (Curt Holland) and a director of field partnerships (Kenneth Eagleton). These positions replace the previous model of four regional directors.

Funding
Previously, nearly all projects had an IM missionary associated with it responsible for raising necessary project funding. Since many partnerships don't have a field missionary associated with them, we have had to look at alternative ways of funding them.

Over the last two years, the principal source of funding for partnerships has been the World Missions Offering (WMO) promoted during the month of April of each year. We hope you will regularly designate your support to one of our missionaries and then contribute to the WMO to support our partnerships.

The second source of funding has been from individuals and churches that designate part of their missions giving to one of the partnerships. Many involved in short-term mission opportunities have seen the importance of these partnerships and continue to support them through designated giving.

While on a missions trip to Ecuador this past June to work alongside one of our partners, Ariadna Riesgo asked Maria, a seven-year-old girl in the jungle, if she had ever heard of the the Wordless Book. Maria answered that she hadn't. Ariadna proceeded to share the gospel in an age-appropriate way. At the end, she asked the girl if she wanted to accept Jesus as her Savior. Maria affirmed that she did, and the two prayed the sinner's prayer. Ariadna encouraged her to share what she had learned with her friends, and excited, Maria ran off to tell her parents.

About the Writer: A missionary for more than three decades, Kenneth Eagleton was recently named director of partnerships at International Missions. Learn more: fwbgo.com.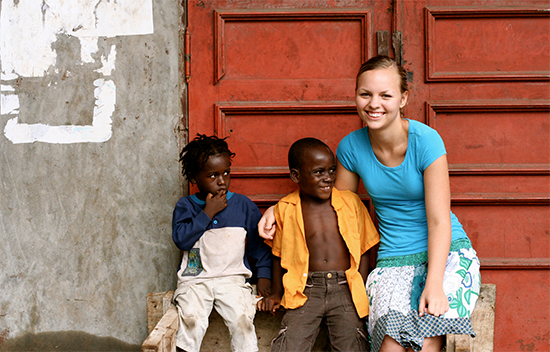 When Helping Hinders
When we see physical and spiritual needs, poverty, and illness, we want to help. The motivation is good, but the way we go about it does not always contribute in a positive and lasting way and can sometimes do more harm than good. Here are some things to think about when we desire to help others (especially in another culture):

Give priority to those things that build for the long-term, not superficial desires.


Give priority to what will lead to the development of people.


Donate only what is truly useful and needed (candy is rarely useful and can be harmful).


Be careful not to pick favorites, creating jealousy in others.


Do not give to control people, programs, or an agenda.


Be aware that gifts can humiliate people, making them feel like failures and worthless.


Be willing to accept gifts from those you help.


Do not make people dependent on long-term help.


Understand the root causes that contribute to people's situation. Can you help bring change?


Check your motivation for giving. Guilt, a sense of superiority, or the desire to be recognized are wrong motivations.