December-
January 2013
Learning the Ropes
------------------

New Name, Same College
by Gary Fry
The historic meeting began Tuesday evening with singing and prayer. It was November 5, 1935. Delegates and visitors had gathered from 13 states, along with representatives from the Methodists and General Baptists. They had come to see if the two Free Will Baptist groups could unite into one body. After the first service ended, out-of-town attendees were assigned to homes of those willing to provide lodging during the meeting.

Two days later when the business session convened on Thursday morning, it was obvious that unification would be successful. The National Association of Free Will Baptists was organized. Plans were laid for work with Sunday School, women's ministries, League, missions, and more.
How It Started

One of the reports given that Thursday at Cofer's Chapel in Nashville came from the Education Committee. The group agreed there must be some type of educational work in the new Free Will Baptist denomination. The committee recommended that a school be launched in Nashville in September 1935. The work was to include a "Bible course and…other courses as the Lord prospers us."

Yet the educational dream of this new Free Will Baptist denomination did not become a reality until September 1942. From that first student body of eight to the more than 300 students currently enrolled at Welch College (formerly Free Will Baptist Bible College), the dream of our founders is being realized. They wanted a school that would educate young people to serve the Lord in their world. The first school catalog set forth the standard of "the highest quality of scholastic attainment."

The first FWBBC emblem declared: "Send out thy light and thy truth." While many mottos and goals have been stated through the years, we have never wavered from the first two—high scholastic attainment and the task Jesus set forth in the Great Commission. We are still sending out the truth and light of Jesus Christ.
When It Changed
July 2012 marks another milestone. During the 2012 national convention in Memphis, Tennessee, delegates voted overwhelmingly to change the name of Free Will Baptist Bible College to Welch College. While the name has changed, our purpose and goals have not. Our standards and convictions remain the same. We are still anchored to the principles that brought the college into existence 70 years ago.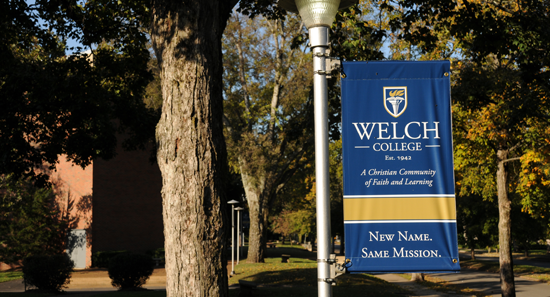 The Seven 'Sames'

We have the same dedicated professors. It's a great comfort to know that when you send your sons and daughters to Welch College, you don't have to worry about what they are taught. Our professors are outstanding Free Will Baptists scholars. They have practical experience in their respective fields. Their goal is not to subvert student beliefs but to instill solid biblical understanding.
We have the same high-quality students. They choose to attend Welch College because they desire the best preparation for service to Christ. They realize that education is vital to their future, and they are serious about their studies. Our students achieve higher than the national average in every area of study.

Our goal is to instill a solid, biblical worldview in every student to prepare them for whatever situation may arise. Being able to defend their faith and make it the basis for their lives is key to surviving in an increasingly hostile world. Welch College emphasizes right thinking based on the infallible Word of God.

Along with a biblical worldview comes a life lived by the moral principles of the Bible. In stark contrast to the world, our students are equipped to follow the principles of the Word in their daily walk.

We have the same commitment to the truth. Truth has one source. The Word of God is our only guide to that eternal truth. Our students are instilled with a love for and a hunger to grasp its meaning. They desire to know how God's will can be applied to their daily lives. In a world where it is in vogue to critically examine God's Word in an effort to make it fit our lives, we stand by the principle that our lives ought to fit the Word of God.
We have the same high standing in the Nashville community. Our students are in demand in the work places of the city. They have long been recognized as dependable and competent workers. Everywhere you go, people know about the college. Some recognize it as "the beautiful old campus on West End Avenue." Others have attended our seasonal programs or are part of our online community. Still others are familiar with our community involvement.
We have the same high dedication to quality. We want to make sure that Welch College graduates represent Free Will Baptists and the Lord with excellence. There should be no doubt that our graduates are followers of Jesus Christ and dedicated to living for Him.
We have the same high accreditation. Welch College continues to be accredited by the Association for Biblical Higher Education (ABHE) and the Southern Association of Colleges and Schools (SACS). These two agencies represent the best in accreditation, both nationally and regionally. This insures that the education received at Welch College is a solid foundation for graduate work anywhere in the world. Students find that credits from Welch College transfer to other institutions with ease.

Welch College has been recognized the past four years as an outstanding college in the South by U.S. News & World Report. Much of the competition for this honor arises from larger public and private institutions that are better endowed financially than Welch College.
We are still owned and operated by the National Association of Free Will Baptists. We are your college. We answer to the Board of Trustees you elect at National Association meetings. It is our mandate to serve Free Will Baptists. We seek to train our young people to serve the Lord in whatever life they have chosen.

Building for Tomorrow
Would we look different to those delegates who met on that cool fall morning in Nashville 78 years ago? Certainly. Have the goals they set as guiding principles for the college changed? Absolutely not. Will they change? Not if we and you can help it. Our dedication is to serve the Lord and Free Will Baptists through quality, biblically-based, higher education.
Yes, we have a new name, but we are the same college. Come visit us, and see for yourself!
About the Writer: Gary Fry is vice president for church relations at Welch College.