April-May 2018
Soccer and the Gospel
------------------


What a Friend She Found in Jesus
By Trif Trifinov
You are my friends if you do whatever I command you. No longer do I call you servants, for a servant does not know what his master is doing; but I have called you friends. John 15:14-15

Like many other Macedonians, Melania left Macedonia to study in Varna, Bulgaria, two and half years ago. Feeling lonely and confused in a foreign place, she needed a friend she could trust. She remembered Raditsa, a woman from her hometown who had come to study in Varna a long time ago. Melania knew Raditsa settled in Varna with her husband and family after graduation.

Melania contacted Raditsa. Since Raditsa is a Christian, she invited the young woman to join her at church—New Life Church Varna. Melania believed God existed. Since childhood, she never doubted that since her parents were nominal Eastern Orthodox believers. Later, her dad accepted Christ as his Lord and told her and her sister who God was. Already a teenager at this time, Melania thought Christianity was not for her. She needed a friend, not a doctrine, she thought.

But when she visited our church for the first time, she was surprised to find a place where people were friendly, the songs and sermon were in a modern language, and sweets were served after the service was over. She continued to attend the church and started reading the Bible on a daily basis. She had many questions. After church, she discussed them with the other believers. She made good friends with other teens in the church.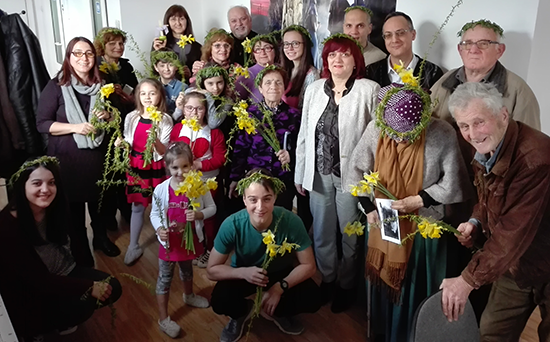 During the summer, Melania went to a Christian camp in Norway, where her father was working. She was baptized while there. She even sent a video greeting to our church to let us know about her new relationship with Christ. She found a new friend in Jesus.

Last year, Melania started a discipleship course with my wife Vanya. She learned a true follower of Jesus not only attends church, but also serves actively in the body. She began helping with the multimedia and became involved with student outreach. She's already invited a few students to our church services and other events we've put together for students.

Being a Christian isn't always easy for Melania. Recently she asked, "Why is it I don't feel anything like before? Am I really a Christian?" We talked about what makes us Christians—not the way we feel, but what we truly believe and the lives we live. Today, Melania continues to grow in her faith and relationship with her friend, Jesus.

You are my friends if you do whatever I command you. No longer do I call you servants, for a servant does not know what his master is doing; but I have called you friends.

About the Writer: Native Bulgarian Trif Trifonov and his family serve with Free Will Baptist International Missions as missionary partners in Varna, Bulgaria. The World Missions Offering helps him plant a church in this university town.